Katie Mazin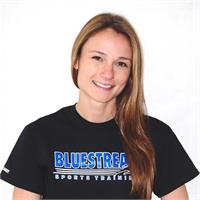 Headquarters Facility Director
Katie has been training professional, collegiate, high school, and youth athletes for the past 7 years, 6 of them with BlueStreak. She graduated from Sacred Heart University with a Bachelor's degree in Exercise Science and Master's Degree in Exercise Science and Nutrition. While at Sacred Heart Katie competed on the Division 1 Field Hockey team.
Katie is a certified strength and conditioning specialist (CSCS) as well as a registered yoga teacher (RYT 200). She trains the body and the mind and believes that if an athlete can learn to control their breath during movements, their potential is unlimited.
Katie specializes in functional strength training, corrective exercises and mobility, and speed development.
Katie Mazin instructs the following: