Ali Knott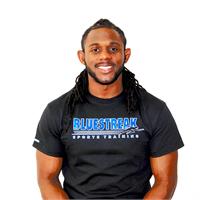 Ali has been training professional, collegiate, high school, and youth athletes for the past 9 years, 8 of them with BlueStreak. He graduated from Central Connecticut State University with a degree in Exercise Science. Ali also is a licensed massage therapist through the Connecticut Center for Massage Therapy. After college, he competed as an amateur boxer, competing in several events, including the New York Golden Gloves.
Ali also serves as the head Strength and Conditioning coach for Westhill High School for all teams and student-athletes. He specializes in speed development, strength training, and plyometrics for all sports. He also specializes in general health, fitness, and conditioning for all ages and abilities.
Ali Knott is currently not instructing any classes.